Breakfast Sandwich
buttermilk biscuit, 'Beking' soft poached egg, 'Barrifield' bacon, 'Wilton' cheddar, house tomato jam

Vegetarian Breakfast Sandwich
buttermilk biscuit, 'Beking' soft poached egg, French brie, red wine braised peppers

Beking's Yogurt Parfait
house made granola, berry compote, chopped pecans, dried apricots and black sesame

Khachapuri  (*NEW at Terra Verde only)
bread baked bowl filled with egg, crumbled feta & mozzarella, with side of tomato & cucumber salad

SOUP + SALAD

Tomato Basil | Roasted Squash | Potato Leak |
selection varies between locations w focaccia | also available in 1L take home                                  

Fig & Pecan
mixed greens, cucumbers, shaved carrots, crumbled feta, sesame seeds & 'Kingston Olive Company' fig balsamic vinaigrette

Roasted Beet 
mixed greens, cucumbers, roasted walnuts, crumbled feta, beet tahini & lemon honey vinaigrette
Local Chicken
zucchini pickles, soft chèvre, roasted garlic aioli, mixed greens

Brie-L-T
'Forman Farm' tomatoes, torn basil, garlic pumpkin seed pesto aioli, mixed greens

'Abner' Mennonite Salam
red wine braised peppers, olive tapenade, 'Wilton' cheddar, dijon aioli, mixed greens

Warm 'Wilton' Cheddar Bacon
apple dijon compote, charred onions, roasted garlic aioli, mixed greens

Roasted Squash (seasonal)
chickpea hummus, crumbled feta, roasted pecans, mixed greens

Mediterranean Mushroom (seasonal)
roasted 'Fungi Connection' mushrooms, crumbled feta, tzatziki, pesto pumpkin aioli,  mixed greens
Regular
sandwich | side soup or mixed greens | cookie | drip coffee, tea or sparkling water (upgrade drinks available)

Kids
salami & cheddar sandwich w/ dijon aioli & greens | veggie sticks | kids oat chocolate chip pumpkin seed cookie | fruit juice box
WINE SHOP
WHITE
Esedra Pinot Grigio | Italy | 2021
Spy Valley Satellite Sauvignon Blanc | Marlborough, NZ | 2021
Scheuermann Vidal | Westport | 2018
Broken Stone Chardonnay | Prince Edward County | 2021
Lisetto Prosecco  | Italy | 2021
ROSE
Les Oliviers Grenache Rosé | France | 2021
RED
Cloudsley Cellars Pinot Noir | Niagara | 2020
Cuvée Jean-Paul | France | 2022
Scheuermann Pinot Noir | Ontario | 2019
Terre Natuzzi Chianti Riserva | Italy | 2017
Combel La Serre Le Pur Fruit du Causse Cahors | France | 2021
Bus.9 Aragonez - Syrah | Portugal | 2020
Roko Il Vagabondo Montepulciano | Australia | 2022
Wine Delivery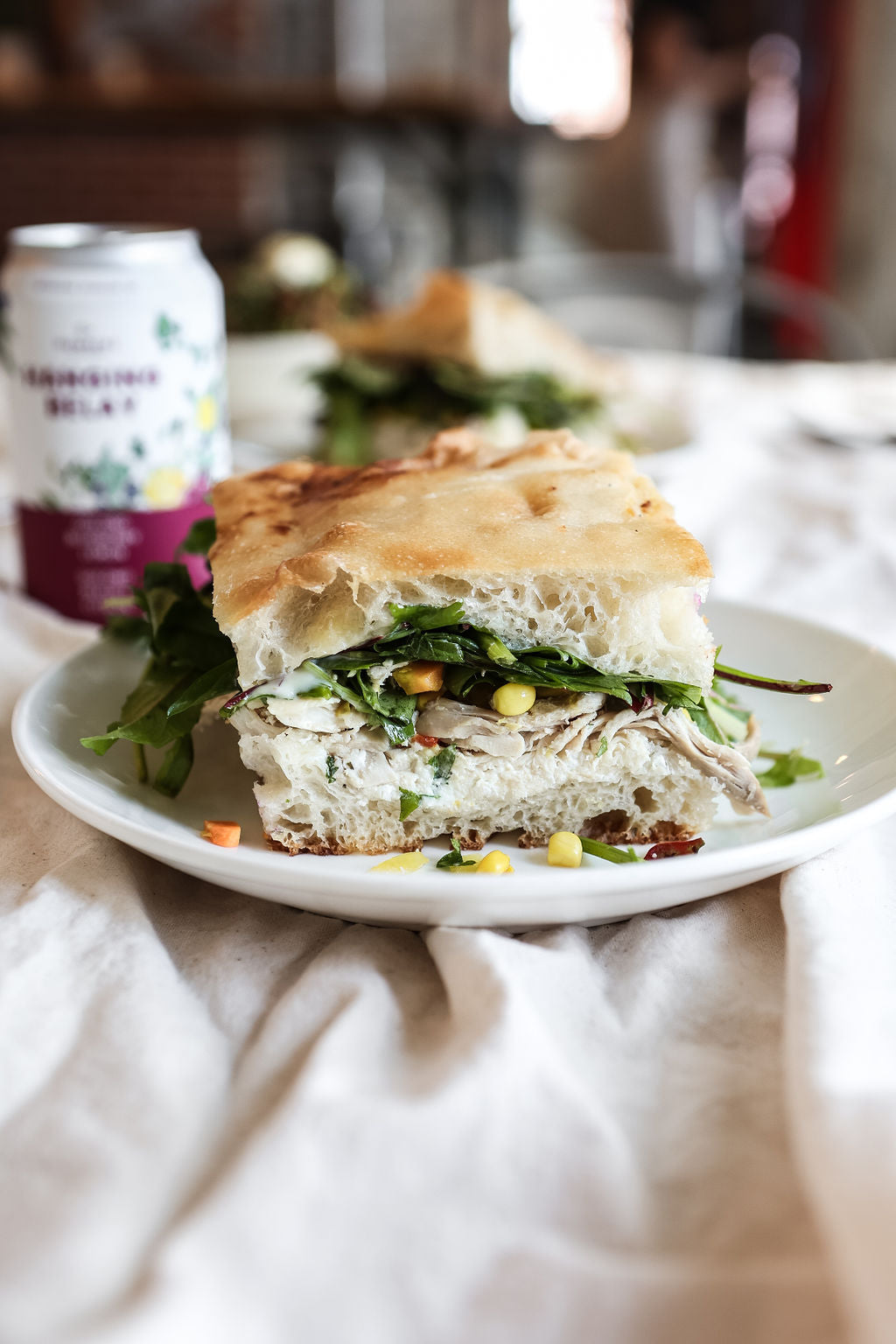 OUR SUPPLIERS
Bauman Apiraries | Artizen Kombucha | Barriefield Meat Market | Becking Poultry | County Bounty | Creel & Gambrel | Daft Brewing | Fine Balance Brewing | Findlay's | Forman Farms | Lemonade Dave | Numbere Tea | Pilot Coffee | Tara Natural Foods | Tony Deodato's | The Fungi Connection | Maplescapes Farm | Mackinnon Brothers Brewing | Riverhead Brewery | Reid's Dairy | Sloane Tea | Wilton Cheese Factory
ALLERGIES & DIETARY
Though we are not an allergy free facility, we do our best to accommodate your needs when we can. We work with a variety of nuts, eggs, gluten and other foods in our kitchen and therefore cannot guarantee orders will be free of traces of allergens. Please let us know your dietary restrictions upon ordering so we can help guide your selection.
Choosing a selection results in a full page refresh.
Opens in a new window.